2023 Season

Hello supporters, the market is now fully open April 9 - November 19 2023
Opening Hours: 8:30 am - 1:00 pm.
Thank you for your support of West End Farmers Market!

Participating Vendors:
Diaz Berries 804-761-6439
FJ Medina and Sons Farm 804-410-7009
J&W Valley View Farms 804-241-9647
Metropolitan Bakery 202-315-8775
Penn Farm 804-450-6426
Papa's Market 717-778-8316
Cold Country Salmon 703-623-4633
Fermented Pig 571-283-1202
Old Blue BBQ 703-552-4544
A.M Kettle 703-546-9431
Bills Flowers 301-335-5846
OZZ Catering (Mediterranean) 240-817-8181
Arkibuana (Ethiopian Coffee) 571-551-1062
CMS Supply Co. 703-424-0703
Ana Twist 703-201-1824
Moms Divine Sweet Potato Pies
240-318-0271
Bdot Breakfast 240-205-7421
& More



4800 Ben Brenman Park, Sundays 8:30AM to 1PM
APRIL 9 2023 - NOVEMBER 19th 2023

Our Motto is:
EAT WELL AND HAVE FUN!



Follow and like us on Instagram:




@WEFMVA
About the Market: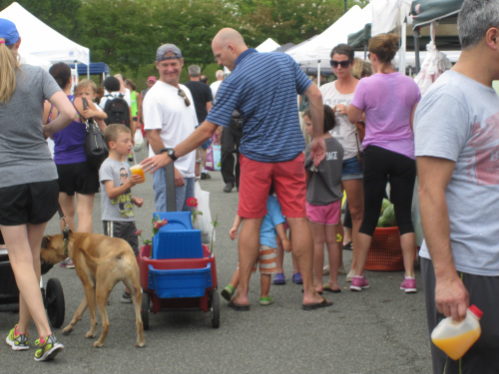 Every Sunday, a stunning array of farmers, bakers, cooks, crafters, and artisans set up tents and tables to sell you delicious food, superb crafts, and beautiful art. Visitors are often treated to music or dancing as well!
At your market you will find:
4 Farmers - all local

1 Gardener- local & Real Character

2 Orchards - fresh strawberries, berries, apples, peaches, and pears anyone?

1 Gourmet Cheese, yogurts, jams, pickles and baked goods vendor - our cheese expert Tommy

1 Flowers and Plants vendor. Stop by and talk to Billie!

1 Orange Juice vendor - anything better than the smell & taste of fresh-squeezed OJ?

4 bread bakers - Greek, German, American and Uzbekistani

Sweets vendors - cupcakes, cookies, tarts, and treats galore

Gourmet Foods - Olive Oil, Cajun Rubs, BBQ Sauce, Chocolate Bars, etc.

Food Trucks - Popped Republic, Rocklands BBQ

Hair/Beauty Truck - Do your 'do with Ruby

Used Books & Info on events from the Beatley Library

The City of Alexandria's Composting initiative: Bring your food scraps and the city creates dirt!
If gathering up some of the most delicious and fresh, just picked, just-baked food to be found in the West End was not enough, your market also sponsors local crafters and artisans.
Need a gift?– Need a little treat? Just want to be enticed by design and color? Stroll through the market.
​Our artisans work hard to provide stunning displays of:
Jewelry;
candles;
soaps;
clever stationary;
painted glassware;
personalized items;
photos;
pottery;
woodworking;
toys;
clothing- for children & adults;
placemats;
runners and home goods;
and more!

Adding to the fun your market invites local non-profits, and government agencies to set up a table and talk to the people their agency serves, face-to-face. A regular at our market is the Alexandria Bike and Ride Department. You will love them. They give away free biking/hiking maps and sometime biking goodies as well. Your local Beatley Librarians come every third Sunday to advertise their multiple events AND sell used books for only $1. Book lovers – what better place to sit and read with a scone or muffin and coffee than under a shady tree in the park? You never know what other agencies and non-profits might show up at the market. Walk down every Sunday and check it out!
Your local market is a great place to eat well and have fun!
Meet our vendors here!
---
---
Thank You!


Thanks to
Eden Good
, a non-profit organization whose mission is to advance the benefits of a healthy lifestyle through the incorporation of a plant-based nutrition model. Through its cooking show broadcast on cable networks throughout the country, Eden Good offers education in alternative choices for healthier eating.

---
We can't thank you enough for supporting
the West End Farmers Market!
Know someone who is interested in supporting the West End Farmers Market?
Click here!